Milan Medical Group
Urgent Care Open 8 am – 5 pm Monday – Friday
(closed for meal break from 12-1)
Closed on Saturday and Sunday
Phone: 309-787-2600
Pay your bill online – Click here
To ensure we have all of the necessary information to complete school physicals, they will only be done by appointment to give us time to review the student's medical history prior to the visit. We will ask that you bring or send us all of your required documented proof of immunizations at least 2 days prior to your appointment. Sports Physicals can be done as a walk-in.
Check us out on Paula Sands Live!
COVID-19 INFORMATION:
COVID-19 Vaccinations available at the through the Rock Island County Health Department Website
To all of our patients and friends, we are open for urgent care from 8-5 Monday-Friday (closed for meal break from 12-1) and appointments. If you have been in contact with anyone known to have COVID-19, or have been asked to quarantine due to symptoms, please call 309-787-2600, our staff will get some basic information on the the phone, then, one of our staff will ask you some questions. They may test you for the flu and strep which takes approximately 15 min for results. Depending on those results, they will then advise whether we recommend a COVID test.  If you have any questions, please call us. We are following CDC and Rock Island County Health Department guidelines to assess patients, sanitize our clinic and protect patients and staff. We appreciate your patience with these changes which will ultimately help reduce the spread of the virus and keep us all healthier.
At Milan Medical Group we have developed a unique team of board certified medical and Chiropractic providers to work together for your complete recovery. Our team approach means you no longer have to travel and change your busy schedule to get the most definitive care. Now you can see all of your doctors in one stop, in one office. Milan Medical Groups mission is to provide comprehensive, compassionate and quality medical care to our patients and having multiple professionals in one office allows us to treat you for many different conditions. Whether it's a common cold or pain resulting from injury, we have the licensed staff to serve you. Aliments we treat include: neck and back injury, arthritis and joint pain, headaches, musculoskeletal pain/injury, family medicine/primary care, pre/post operative care, whiplash/auto accident injury, fibromyalgia, industrial medicine, school/sports or DOT physicals, Occupational Medicine, neurological rehabilitation, balance disorders and more.  You can be seen on a walk-in basis through our urgent care, or you can make an appointment with one of our family providers. This is just another reason to choose Milan Medical Group for your health care needs. Milan Medical Group has been providing quality health care services to the Quad City metropolitan area from Rock Island, Moline IL to Le Claire and Blue Grass IA since 2004, and we have grown with the community so that we can continue to meet your health care needs.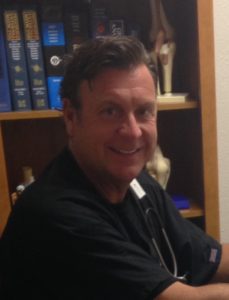 Owner – Dr. Raymond Burge
Dr. Burge completed his Doctor of Chiropractic from Palmer College in 1986 and his Doctor of Medicine from University of Health Sciences in 2002. He has 20 years experience working in both the Chiropractic and Urgent Care environment. In 2007 he became board certified in diagnosis and internal disorders by the American Board of Chiropractic Internist. Dr. Burge believes in health from the inside out and that patient education is the key to healthcare. When not working in the office he enjoys spending time with his kids, playing his guitar, golfing and boating.
Our Providers
(click their names for more information)